Solfège is a system of musical notation which is used to teach sight-singing and ear training. It is also known as solfa or solfeggio. The system is based on assigning a syllable to each note in any musical scale. This helps musicians to sing or recognize melodies by ear. Singing any song using solfege syllables makes it easier for us to hear and remember the sound of intervals.
The most common solfege syllables used in the Western classical tradition are: Do, Re, Mi, Fa, Sol, La & Ti (or Si in some countries). These syllables are used to represent the notes of any diatonic scale . A diatonic scale is a seven-note scale that includes five whole steps and two half steps. (W-W-H-W-W-W-H)
Solfege syllables
The basis of the language of Solfege lies in assigning each of the 7 notes in a scale their individual solfeggio syllable pronunciation. This includes Do for the 1st degree of the scale, Re for the 2nd degree, Mi for the 3rd degree, Fa for the 4th degree, Sol for the 5th degree, La for the 6th degree & Ti for the 7th degree. However, the pronunciations of these specific syllables are very useful in remembering any specific sequence of notes thereof. Inevitably this promotes composing complicated vocal melodies and easily memorizing them, especially useful for vocalists/singers. Now let's look at solfège in practice here and their specific syllable pronunciations.
DO – "Doh"
RE – "Ray"
MI – "Mee"
FA – "Fah"
SOL – "So"
LA – "Lah"
TI – "Tee"
Chromatic syllables use "i" (said "ee") for the sharps and "e" (said "ay") for the flats. Since Re already has an "e" on the end, it changes to Ra (said "rah").
C Major Scale using Solfege
C Major scale is made up of the seven notes: C, D, E, F, G, A and B (often continuing on to a C an octave above the first one). If we were to sing this major scale using solfege rules the note C would always be sung as DO, the note D would always be sung as RE the E would always be sung as MI and so on. Refer below to understand this scale using solfege.

The C major scale is illustrated on a Clef below showing the Solfege syllables.

Chromatic Scale using Solfege
In the Chromatic Scale we have the notes C, C#, D, D#, E, F, F#, G, G#, A, A# & B. All these notes semitone or half steps apart – have their individual solfa terms as shown below. Using these syllables it becomes many times simpler for a singer to be able to remember the pitches as well as intervals.

This is specifically useful for voice training and for singers to easily remember musical intervals.
T

onic or Root note
In every scale the first degree of the scale is known as the Root note or Tonic. For example in the scale of G Major we have the notes G, A, B, C, D, E & F#. So the first degree of the note is G thus it is the Tonic/ Root note.

2 types of Solfege Systems
Fixed 'DO' – Solfege System
Most common in Europe and Asia is "fixed do." In fixed-do systems, every note has a solfege syllable associated with it all the time, regardless of the key or scale. Each note's solfege is pulled from the C Major scale, so they are sung using the syllables in the scale shown above. It doesn't matter whether the melody is in F major, B minor, or any other key; C is always sung as do, F as fa, and B as ti. The original solfege system was a fixed-do system, and many musicians still believe strongly that it is a more effective system than the movable-do alternative.

Movable 'DO' – Solfege System
In a movable-do system, the note to which assign the syllable do is the main note, or "tonic," of the key and scale that we're in. For example, if we were in D Major (instead of C major like before), D would be sung as do, with E being sung as re, F# being sung as mi, and so on. This system is most common in the United States and Canada, although it can be found in conservatories in other countries as well.

Using Solfege to sing any song
To better understand the concept of Solfège we take a very common tune – Happy Birthday to you in C Major and we can replace the notes from the song with the solfege syllables corresponding to each note as shown below:
C – Do
D – Re
E – Mi
F – Fa
G – Sol
A – La
B – Ti

Have a look at the lyrics, phrasing & notes of this tune. Simply replace the notes with their corresponding Solfa term in the scale of C Major.
HAP – PY BIRTH – DAY TO YOU
(Sol – Sol) (La – Sol) Do Ti
HAP – PY BIRTH – DAY TO YOU
(Sol – Sol) (La – Sol) Re Do
HAP – PY BIRTH – DAY TO SOME – ONE
(Sol – Sol) (Sol – Mi) Do (Ti – La)
HAP – PY BIRTH – DAY TO YOU
(Fa – Fa) (Mi – Do) Re Do
Solfège Hand-Signs
There you go! Now you know the notes as well as the Solfège syllables to make the best out of this tune. Apply the same concept to any other song and make the most of the knowledge of Solfège.
Solfège is often taught using a hand-sign system, in which each syllable is associated with a specific hand gesture. This helps to reinforce the relationship between the notes and their corresponding syllables and can also aid in developing muscle memory and coordination.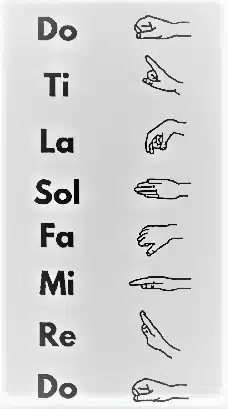 Solfège is an useful tool for musicians of all levels to develop their musical skills, whether through sight-singing, ear training or musical memory skills.
Advantages of using the solfege system
You might have already noticed how using Solfège makes it much more easier to pick up a song, in several cases remember intervals (the distance between 2 notes). For example, the interval from "do" to "mi" is a major third, while the interval from "do" to "sol" is a perfect fifth. By assigning each interval a Solfège syllable, musicians can more easily identify and reproduce intervals when they hear them.
Below are few points where the Solfège system comes in very handy when in comes to musical training and melodic performances:
Sight-singing – Solfege is used in the practice of reading and singing music without the prior knowledge of the musical piece. The syllables of Solfege helps a singer identity the pitches producing the correct pitches to form a melody.'
Ear- training – Ear-training exercises help musicians develop skills to listen, recognise and reproduce pitches which we call as 'by the ear' practices. Solfege helps to label these different notes in a melody. A musician can use this tool to enhance their note identification capabilities.
Composition: Solfege can be used to help a musician compose and develop melodic ideas. In composition solfege also helps in identifying different structural and melodic patterns in a piece using the varied assigned syllables for different notes on a scale.
Voice warm ups – Solfege is often used in vocal warm-ups to help singers warm up their voices and develop their pitch accuracy. Singers may practice singing scales or arpeggios using solfege syllables to help them focus on pitch and intonation.
Therefore, Solfège is is a versatile tool that can be used in a variety of musical contexts to help musicians develop their skills and create music with ease.
To learn more songs and use the concepts of Solfege start your Singing classes with musicmaster.in today!