Live 1 to 1
Online
Hindustani Classical Music

Classes

Searching for best hindustani music classes near me? Learn classical hindustani vocals from qualified Hindustani music teachers.

Book a FREE Demo WhatsApp Us
Hindustani Classical Music
The Indian Classical music consists of two schools of music in India - Hindustani Music & Carnatic music. Hindustani music is associated with Northern sub-continent of India, while Carnatic music is associated with Southern India.
Hindustani music has a 'Gharana' tradition, which came into existence in the mid 18th century . Gharana means a house or school, which follow a particular style of singing that has its roots from a particular region, families of musicians or instructor, who founded under the patronage of their region's king. Agra Gharana, Gwalior Gharana and Jaipur Gharana are the oldest ones and there are many other Gharanas which produced legendary musicians. Given below are names of some of the prominent and famous Gharanas of Hindustani classical music:
Gwalior Gharana
Agra Gharana
Jaipur-Atrauli Gharana
Dilli (Delhi) Gharana
Kanpur Gharana
Kiraana Gharana
Patiala Gharana
Banaras Gharana
Mewati Gharana
Rampur-Seheswan Gharana
Maihar Gharana
Bhendi Gharana
The vocal performance is accompanied by a wide variety of hindustani musical instruments. Some of them are tanpura, harmonium, tabla, bansuri (flute), sitar, sarod, sarangi etc. Gharanas for instrumentalists were named from the first famous prominent player, who played that instrument and stamped his authority and mastery over the instrument.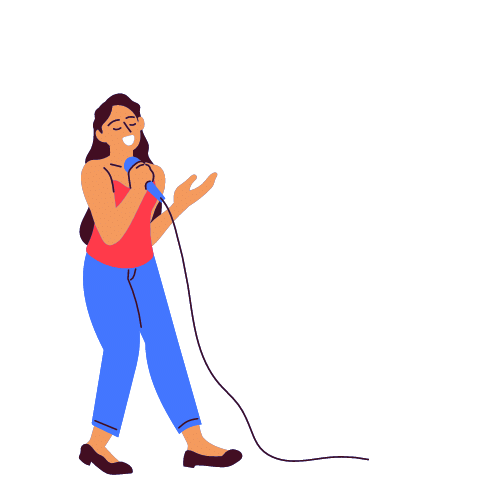 Book a FREE Trial class
Live 1 to 1 Online HINDUSTANI CLASS
Begin your Hindustani journey and get trained by a qualified Hindustani Guru
Book Now
WhatsApp Now
Singing Teacher Recruitment
If you are formally certified or above you can explore teaching lessons with us.
Apply Here