In any given musical piece – a period piece or a modern commercial track we are bound to come across varieties of tones, pitches and textures of different types of voices. They may range from high, low, dark or bright sounds amongst many others. These high and low combinations of diverse sounds are but created from the same voice. On many occasions this leaves us wondering how it is made possible. Voice is a versatile instrument in that sense.
Whether we are speaking, humming, singing or whispering in an undertone we are often unaware of using different spaces of our vocal anatomy when we create these sounds. That being said, we all embody a vast range and types of voices that create high-pitched or low-pitched vocal textures. This article is a deep dive into understanding all these types of voices.
Every voice type has a certain pitch range, which can be measured in ranges of notes (low to high). This range is divided into registers and you might have heard singers using their low and high registers. What distinguishes the registers of a vocal range is their differences in pitch, sound quality and tone.
The type of voice or what we refer to as voice type is a means of categorizing any singer's voice based on several criteria like voice range, weightage, timbre, tessitura, passaggio and vocal anatomy.
Before we start discussing types of voices it is very important to understand that each voice is unique and truly many a times it can be a challenge to categorize a particular type of voice under any mentioned voice category. To make things more complicated all types of voices and their measured range are also susceptible to continuous changes depending upon how much we work up our vocal muscles!
Voice Registers in all types of voices
Voice registers are separated by "breaks". Breaks can be just one note, or several, that when sung are some of the most difficult notes in your range to produce well. You could think of this as being riding a bike over a bridge joining two paths – it's possible, but it's technically more difficult than riding along the paths.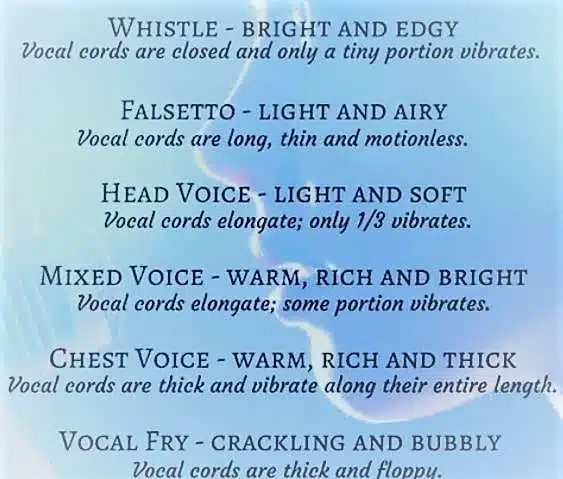 For example, when we speak we use our 'speaking voice' which is said to be the most comfortable vocal space that we are able to naturally access. This gives us all our own unique voice or vocal tone quality. It is important to understand that there are these spaces in our vocal anatomy used to access a range of notes.
These spaces or sources of sounds is what we call as Voice Registers. Given below are the various types of voice registers:
Whisper
Vocal Fry
Chest Voice
Mid Voice
Head Voice/ Falsetto or False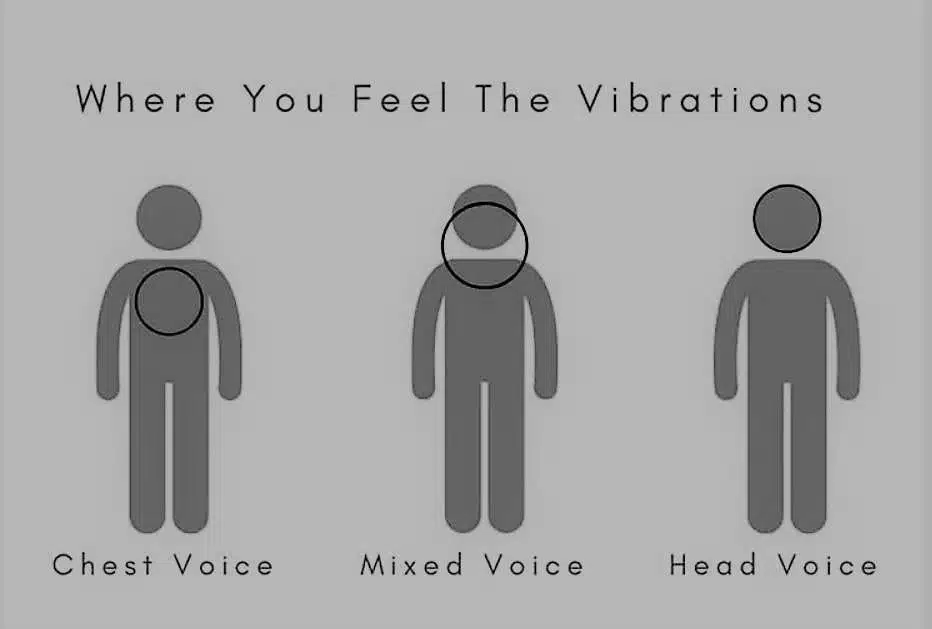 To understand this in details let's take a look at the points below:
Whisper: This is the register of any voice type where we are using an 'undertone'. This means we do not use true voice here it is more of a manipulated sound texture.
Vocal Fry: This is a voice register space in the throat that acts as a bridge location for moving onto chest voice in all types of voices. In this register we are unable to completely enunciate but we are capable of still producing a sound.
Chest Voice: The chest voice can be identified by the lowest note that a particular voice is able to produce. To feel this, hum any low note. Put your hand on your chest – you will be able to feel the vibrations.
Mid Voice: The mid voice can be identified by notes lying midway from the highest and the lowest notes that a particular voice is capable of producing. For example, if you consider a two Octave vocal range starting from C2 to C4 – you begin on 2nd Octave – C2 (being the lowest note), the 3rd Octave – C3 (would be the first note of the mid voice) and C4 (the note on the range or what we call as a false note).
Head Voice/ Falsetto or False: The head voice or falsetto or false in any individual can be identified by notes that lie on the higher end of the voice range. This is often characterized by a feeling of the note being present at the back of the throat or at the back of the head but definitely a breathy/ airy note which is also light. This is often more brighter and lighter than chest voice.
Now that we understand the importance of individual voice registers, we will discuss the various parameters that affect any particular voice type.
Factors affecting types of voices:
Vocal range and categories
The term "voice range" refers to the span of notes that a person can comfortably sing within their vocal range. A person's vocal range is determined by the physical characteristics of their vocal cords and the muscles that control them.
To understand these concepts clearly we take a look at the piano notes below starting from 2nd Octave – E2 to the 6th Octave C6. Now as we move to the right of the piano we move higher up on the vocal registers/ frequencies and vice-versa.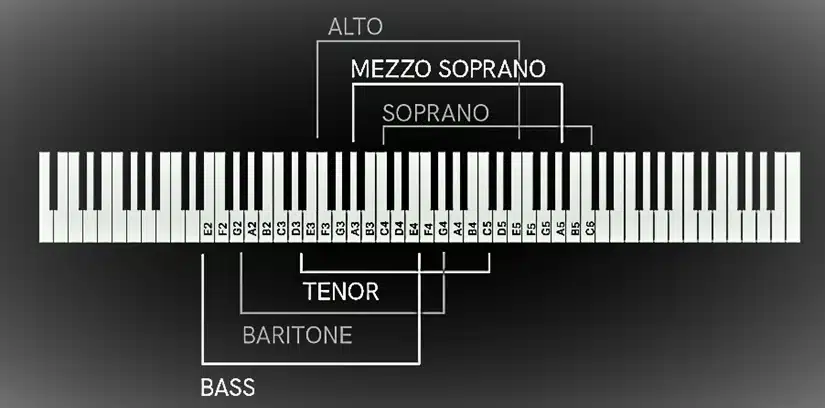 Below mentioned are the categories of vocal range:
1.Soprano: This is the highest female voice range and typically spans from middle C (C4) to high C (C6)
2.Mezzo-soprano: This mid range female voice range that starts from low (A3) to high (A5)
3.Alto: This is the lower female voice range and typically spans from low F3 to high F5
4.Tenor: This is the higher male voice range and typically spans from C3 to high C (C5)
5.Baritone: This mid range male voice range that starts from low (G2) to high (G4)
6.Bass: This is the lower male voice range and typically spans from low E2 to high E4.
Here it is important to note that it is not necessary for everyone's voice to fall neatly into these categories. Some people may have a wider or narrower vocal range than what is typical for their gender. Additionally vocal range can be developed and expanded with routine training and vocal practices.
Vocal Weightage and it's importance
Voice weightage in vocal training and performance affects the quality and tone of a singer's voice. A balanced voice weightage can help a singer to produce a full, rich & rounded sound across their entire range whereas an imbalance can lead to a weaker or strained sound.
A heavier voice weightage refers to a greater emphasis on the chest voice. This results in a richer more powerful sound in the lower range.
A lighter voice weightage on the other hand refers to a greater emphasis on the head voice. This results in a brighter more agile sound in the higher range.
Tessitura in all types of voices
In vocal arts, the term "tessitura" refers to the range of notes within a singer's vocal range where their voice feels most comfortable and resonant. It is the part of the range where the singer can produce their best tone quality and sustain notes with ease.
In all types of voices, the tessitura is an important concept in performance because it can affect the overall quality of the voice and the ease of singing. Singers who are aware of their tessitura can choose repertoire that best suits their voice and showcase their strengths as a singer.
For example, a singer with a lower tessitura may feel most comfortable singing in the lower range and may choose repertoire that highlights their rich, warm tone in that range. Conversely, a singer with a higher tessitura may feel most comfortable singing in the higher range and may choose repertoire that highlights their bright, agile tone in that range.
A singer's tessitura is not fixed and can be expanded over time as their voice develops and matures.
Tone & Timbre
In vocal arts, the terms "voice tone" and "voice timbre" both refer to the unique quality and character of a singer's voice referring to overall quality or color of a singer's voice. Tone can be described as warm, bright, dark, breathy, airy or raspy among other qualities. This is often determined by the physical characteristics of the singer's vocal cords and the resonating chambers in their body as well as their vocal technique and style of singing.
Voice timbre, on the other hand, refers to the specific combination of overtones or harmonics that are present in a singer's voice. Each singer's voice has a unique timbre that can be recognized and distinguished from other singers. Timbre is influenced by factors such as the shape of the vocal tract, the size and shape of the vocal cords, and the singer's breath control and vocal technique.
Both voice tone and voice timbre are important considerations in vocal performance and training which affect the overall emotional impact and communication of a song. Singers can work to develop and refine their tone and timbre through vocal exercises and training by exploring different styles and genres of music.
Passaggio or bridge location
The term "bridge" or "passaggio" refers to the transition point between different vocal registers in a singer's voice. The location of the bridge can vary depending on the singer's voice type. The location of the bridge can affect the singer's ability to sing smoothly and evenly across their entire range. Singers who have difficulty with the bridge may experience vocal breaks, where their voice suddenly shifts in quality or pitch as they transition between registers.
For male singers, the first bridge generally occurs around the E4-F4 range, which is the transition point between the chest voice and the head voice. For female singers, the first bridge generally occurs around the A4-B4 range, also between the chest and head voice.
Vocal training and exercises can help singers to strengthen and smooth out their transitions across the bridge. Some common exercises include vocal sirens, lip trills, and scale exercises that focus on gradually transitioning through the bridge area.
Ultimately developing a strong and flexible bridge is an important aspect of vocal technique and can help singers to achieve a seamless balanced sound across their entire vocal range. in all types of voices.
Anatomy of the voice
It is already understood that our physical form also affects each and every aspect of our voice. The anatomy of the voice plays a significant role in determining the type of voice that a person has. The size and shape of the vocal cords, the shape and size of the throat and mouth and the position of the larynx all contribute to the unique qualities of a person's voice.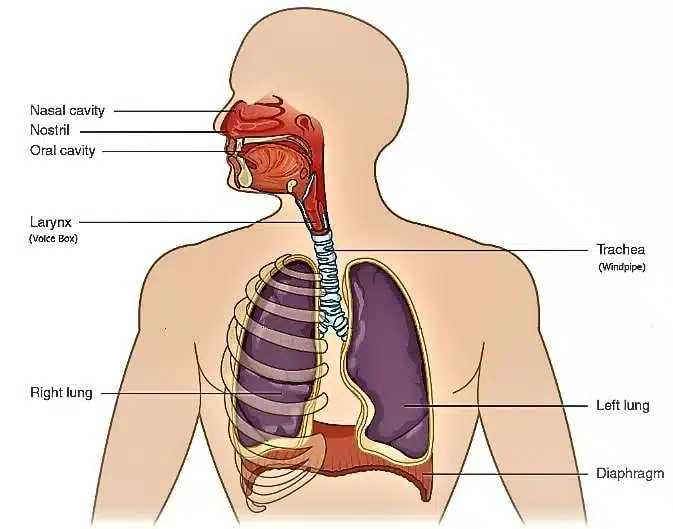 One of the most important factors in determining voice type is the length and thickness of the vocal cords. Longer and thicker vocal cords typically produce lower-pitched voices while shorter and thinner cords produce higher-pitched voices. This is why men generally have lower-pitched voices than women.
The shape and size of the throat and mouth also affect the resonance and quality of the voice. For example, a larger throat and mouth can produce a richer, fuller sound, while a smaller throat and mouth may produce a brighter, more focused sound.
The position of the larynx also plays a role in determining voice type. A lower larynx position can create a deeper, more resonant sound, while a higher larynx position can create a lighter, brighter sound.
Additional factors such as breath control, vocal technique and vocal health can also affect the quality and type of a person's voice.
While anatomy is an important factor in determining voice type it is important to note that with practice and training it is possible to optimize our vocal anatomy and develop a strong, healthy voice. This is because starting from the length of our trachea to the strength of our laryngeal muscles defines how we sound. The way our articulators act in our individual physical forms also define the way we sound.
Application and implementation of all voice types
Now that we know the concept of these different types of voices, their variations and factors affecting them, it is important to understand how we implement this knowledge.
Choral Setups – In most choral setups choral singers tend to use more head voice/ falsetto than chest voice. This is typical of the classical singing. Effectively we are able to feel the head voice frequencies at the back of our heads.
Mixed or Modal Voice – When both the head and chest registers are used simultaneously, it is referred to as mixed voice. Great singers mix chest and head voice to create an unbroken transition between the two. Mixing registers also helps unify sound quality, so the entire range of the voice sounds similar. Physically the vocal folds are constantly fluctuate. A great example is singer Beyoncé who holds the crown for mixing her chest and head voices effectively in her performances.
Thus we can concur that the knowledge and the awareness of the above vocal concepts and learning the intricacies of the various voice types help us develop a healthy understanding of the voice as an instrument and the depth of all types of voices so that we can implement the capabilities of each unique voice type to the best of our knowledge.
If you are interested in learning more about singing techniques or increasing your own vocal range, musicmaster.in offers singing lessons, from training exercises and warm-ups to many more. Begin your classes today!