There are numerous techniques that singers learn in the course of their musical journey. One of the most common techniques they come across is vibrato. Though the term vibrato is thrown around very casually there are many misconceptions regarding the technique. In this blog, we will dive deep into the hows and whys of the vibrato and take the correct steps to learn the singing technique.
What is Vibrato
Let's start with the simplest question. What is vibrato? When we say the word vibrato the first thing that comes to our minds are waves. To put it simply vibrato refers to the subtle pitch variation that occurs through the free movement of the vocal folds within the larynx. The word has Italian roots. Vibrare means to vibrate in Italian from which the word vibrato originates. Many might still confuse vibrato with other singing techniques. For better clarity let us look into these specific characteristics of vibrato which sets it apart from the rest.
Characteristics of a Vibrato
The number of notes used: many people associate the singing of multiple notes when singing vibrato. But in actuality, vibrato is the technique that centers around only "one note".
Speed of vibrato: Normally the speed of vibrato oscillates between 6 Hertz or 7 Hertz per second or in other words 6 cycles and 7 cycles per second. The slower or higher speed of the oscillations results in the production of other techniques.
You must have noticed that we have been constantly talking about numerous other techniques when describing vibrato. The techniques that we are going to mention below are closely related and associated with vibrato having somewhat similar characteristics. These techniques are also sometimes regarded as different types of vibrato but they are not regarded as true vibrato. Though the knowledge regarding them is extremely useful when learning how to sing vibrato. So let us learn a bit more about them for better clarity and for a wider understanding of the topic.
Types of Vibrato
Vocal trill
In classical music, we find the use of the technique of vocal trilling. Vocal trilling refers to the rapid oscillation between two neighboring notes or semitones. The vocal trill vibrato is not a true vibrato but it can induce the effect of vibrato. Vocal trill can sound like a shaky vibrato.
Diaphragmatic
The pulsating of the diaphragm during sustaining a note is known as diaphragmatic vibrato. This method helps in creating a sound effect that gives an impression of a vibrato. In this method, the airflow is regulated through the movement of the abdominal muscles in between a specific period and at a specific rhythm. There are plenty of reasons why this particular method is widely discouraged by musicians.
Many singers developed this unhealthy way of singing by putting pressure on their abdominal muscles to produce vocals that resemble vibrato. Diaphragmatic vibrato can result in permanent damage to one's voice. Moreover, the constant use of this method can also become a habit when attempting vibrato. It is very difficult to reverse this particular habit because the abdominal muscles tend to memorize the sensation of the muscle pulsating during the use of this technique. The constant pushing of the abdominal muscles also results in panting which can further cause unnecessary stress to one's entire body for example it often causes dizziness or light-headedness in a person. Lastly, the panting can also make it extremely difficult for a single to stay on pitch or sustain a note.
Caprino
Caprino is also known as trillo Caprino. In Italian caprino literally translates to "little goat" or "goat-like." As the name suggests this technique produces a vibrato that resembles the sound of a bleating goat. trillo caprino is one of the few examples of poor execution of vibrato. Lack of proper breathing technique results in an unequal distribution of the airflow resulting in an unstable voice. The lack of support to one's voice and the lack of vocal foldup proximation results in the production of overly fast vibrato or bleating sound. Trillo caprino is not a sound of a healthy production.
Vocal wobble
Vocal wobble refers to wide or a slow vibrato. The vibrato which oscillates under six hertz per second is usually categorized as a vocal wobble. Improper breathing doesn't provide sufficient support to one's vocal folds and results in very little breath energy, it delivers a lackluster tone as well. Vocal wobble can also be a result of using the lowered laryngeal area causing a slow vibrato. This technique can also cause an accumulation of air pressure which can further give rise to faulty intonations and the tendency of singing on a flat pitch. It also results in the minimal presence or the absence of upper overtones in one's voice when singing.
Gospel jaw
Gospel jaw is the technique that consists of singers rapidly moving their jaw and tongues to create an effect that resembles a vibrato. Thus, this technique is also given the name Jaw vibrato. The vibrato produced through this technique is not natural sounding. It is once again one of the improper ways in which vibrato is executed.
Many a time you will see singers practicing this technique to add more theatrics and dramatize their performances. But usually, singers resort to shaking their jaws and tongues due to the absence of proper breath management and lack of vocal support for creating a sound effect similar to vibrato. Again, a forceful production of vibrato is an unhealthy practice as this technique also creates unwanted tension in one's vocal areas which can cause permanent damage to one's voice. Furthermore, the vibrations generated can also impair the quality of one's vocal timber. Thus, this technique is also not encouraged when attempting vibrato.
What is Tremolo? 
The word vibrato and tremolo are often used interchangeably but they represent two different techniques. We have learned quite a lot about what is vibrato and now we ask and answer the question of what is tremolo.
Tremolo is the technique that produces extremely fast vocal oscillations. The tremolo can take place in various forms, for example, it can be seen in the high-speed repetition of a singular note or alternating rapidly between 2 notes. Another factor that sets Vibrato and tremolo apart is the audial differences. To put it in a simpler manner we can say that vibrato deals with pitch variation. whereas tremolo deals with minute subtle variations and fluctuations in the volume when singing. There can be different reasons which might cause a tremolo. For instance, when singers use too much breath energy to sustain a vibrato or when there is excessive pressure built at the root of the tongue. Lack of vocal fold approximation can also be a reason behind a tremolo.
What is Natural Vibrato
We kept mentioning the natural vibrato so let's ask ourselves the question what is a natural vibrato and how is it produced?
A natural vibrato is produced when the correct pitch excursion is implemented that is when the tonal oscillation is evenly produced and is steady in nature. It takes place due to the open pharynx or is simply known as an open throat. Other factors that are vital for producing a natural vibrato are consistent air pressure for the vibration of the vocal cords resulting in well-balanced breath support, the correct temporal rate that is the cycle per second, and the healthy adduction of the vocal folds. The following picture shows the difference between a tremolo and vibrato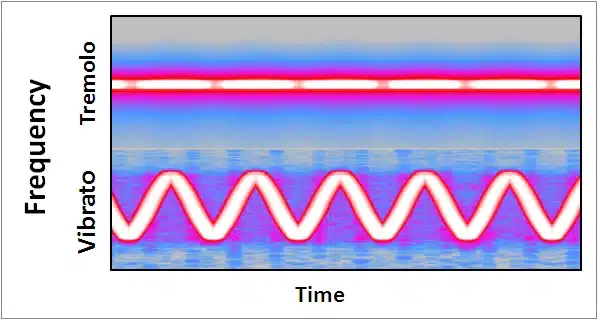 Natural vibrato is a result of singing by applying correct techniques and singing in a healthy manner not forcefully or through manipulation. Singers are able to sing vibrato when they have learned how to regulate breathing properly and acquire the skills such as tonal resonance and the proper way of relaxation of the voice etcetera. The pitch variance when producing natural vibrato is not too wide nor is it too narrow. It strikes a balance and usually, the rate of oscillation is between 6 to 8 oscillations per second. Another major characteristic of natural vibrato is its even vibrating pattern. Consistent air flow is regulated and the closing of the vocal folds is optimal. Uneven breathing and improper breath management will cause uneven or overly fast or slow vibrato with a lack of vibrancy and occasional pitch problems. Lastly, correct body posture is vital when learning and producing natural vibrato.
Developing a Vibrato
So far we have learned about the meaning of vibrato different types of vibrato and the meaning of natural vibrato. So before jumping onto singing the vibrato let's learn step by step how to develop natural vibrato.
Warm-up
Waking up one's voice is essential for any single warming up is one of the key measures taken by singers to avoid any injury or strain to one's vocal cords or body parts required for singing. In respect of the vibrato, there are a few warmup tips that can especially help when learning this technique.
Relaxing and releasing
One should begin by stretching the entire body. Giving the shoulders, arms, and back a good stretch. Stretching will help in relaxing the muscles in one's body. The release of unwanted tension from one's body is extremely important for singing. Specifically, for being able to produce a nature vibrato one must be in their most comfortable and natural state, and for that one must be relaxed; which will help in producing a clear sound.
Focus on the jaw
One should focus on exercising the jaw. To do so one must massage the place between the ear and the jaw. It will allow for gaining the full movement of the jaw when singing. Thus, will help in better articulation and the production of clearer sound.
Back of the throat
For the opening of the back of the throat one should stretch and open their mouth wide as far as possible. One can stretch out the back of the throat by emulating a yawn. Remember when practicing one must avoid straining the throat muscles. If one feels tension or strain on their vocal cords they should immediately stop.
The correct posture
One must embody the correct posture for singing for numerous reasons such as for better breath management, for voiding the unwanted tension in one's body, for the proper flow of the voice, and many more. The correct posture is known as the tall posture.
Tall Posture
The features of the tall postures are as follows: Starting with one's feet. They should be flat on the ground and the body weight should be evenly distributed in other words one must not put too much pressure on the back of their feet the heel or in front on their toes. The leg muscle should not be stiffened when standing, aligning one's hip to the center with the spine, avoiding locking the knees, having the chin parallel to the ground, and finally straightening the spine.
Breathing
The strength of the natural vibrato can be ruined by shallow breaths, thus one should start with taking deeper, fuller breaths because breath consistency is crucial for producing a natural vibrato. For steady even breathing one must apply the technique of diaphragmatic breathing. In other words, one's diaphragm or stomach should expand when breathing in and should contract when breathing out. to understand and learn more about diaphragmatic breathing check out the article on "Improve Your Singing with Vocal Exercises."
Identifying Pitch Oscillation
When attempting vibrato one must try to catch the fast pitch oscillations in their voice since vibrato is the variation in the pitch when singing. In the beginning, many might have a very faint vibrato but through practice, one can develop vibrato. Another thing to keep in mind is that many might have a more subtle vibrato than others. The vibrato is one of the techniques which develops over time as the singer's voice matures with proper technique and practice one is more likely to develop a natural vibrato.
Record yourself
Recording oneself practicing has a number of benefits. Firstly, it helps in assessing once singing and to identify the minute pitch variations. Further, it helps in tracking one's progress and also helps in pointing out if the vibrato is naturally produced or forced.
Practicing and Correcting
There can be numerous factors that will indicate whether the vibrato is natural or not such as strain on one's throat, forced movement of the abdominal muscles, exaggerated movements of the jaw, etc. In times like these refocus on the basics such as proper technique, posture, breathing, and muscle tension. Then resume practicing. Practicing is extremely crucial when it comes to vibrato. Since vibrato is a technique that is double developed rather than learned. Thus, it requires a lot of practice for getting a good hold on breath consistency and for building vocal strength. Regular practice also helps the voice to gain more experience and it helps in bringing maturity to the voice. A good stable voice is more important when learning and developing the vibrato.
Vibrato Exercises
A few exercises that one can do for developing a vibrato
Up and Down
With diaphragmatic breathing choose a comfortable note and try to sing a half step up and come back to the original note. One can start by humming and move on to producing the sound "oo." Keep alternating between the two notes. One should start with the speed they are comfortable and keep increasing the pace and try alternating as fast as possible.
Different volume
Practice singing the vibrato in different volumes. Start with subtle vibrato and gradually try to sing louder vibrato. Don't hesitate to mix it up. If one finds it challenging then try to practice lip trills to gain better control over the airflow while singing.
Spooky Vibrato
In this exercise, one needs to emulate the sound of a ghost; which we make to scare someone. Make it really scary and shaky. Choose a comfortable note which is on the higher end of one's vocal range. Finally, try singing the note slowly and let it gradually decline and hit the lower notes of your vocal range.
Conclusion
One should exercise patience when developing a vibrato. Think of your voice to be a seed that has been planted in the mud. Just like a plant grows with proper nourishment and care. One needs to also care for and provide nourishment to one's voice by learning to sing with proper techniques, building the foundation with steady breath, voice control, etc. The development of vibrato may come easier to some and for some, it might take some time. But with constant effort and practice, one is sure to reap positive results sooner or later. So don't give up, love music, and keep singing.